The Top 3D Pens of 2020
Popular with adults and children alike, 3D pens are fun for everyone. Draw with hard plastics to turn your imagination into reality. Not all 3D pens are built the same, though, and you don't want to waste your money on a cheap toy. Our list of the best 3D pens for 2020 has something for everyone and only features pens from tried and true brands. These are the best 3D pens on the market for dependability, usability, and awesome results!
Before Shopping for a New 3D Pen
Before starting your quest for the best 3D pen, keep a couple things in mind. First, 3D pens are really cheap and easy to make. That means there are tons of dangerously cheap 3D pens out there you should avoid.
While a $10 or $20 3D pen may seem appealing, remember that we're dealing with batteries and heating elements! Cheap 3D pens have been known to melt down or even catch fire, so it's very important to buy from a trusted brand. The products on our list of the best 3D pens are chosen from trusted manufacturers.
The next thing to consider is filament choice. As an easy guide:
PLA is a bio-plastic made from sugar that smells nice and is totally non-toxic. It's usually easy to work with and is the filament of choice for most 3D pen users.
ABS is a harsher plastic but offers a harder finish on models. ABS models typically last longer than those made with PLA.
Finally, PCL is a low-temperature filament typically used for children's 3D pens. It's a bit trickier to work with than PLA but is also made from organic materials and is completely non-toxic.
Those are the biggest differences between most 3D pens. Construction quality and filament compatibility are your top concerns. With that in mind, here are our choices for the best 3D pens for kids, adults, and artists.
The Best 3D Pens of 2020
1. Best All-Around 3D Pen: 3Doodler Create+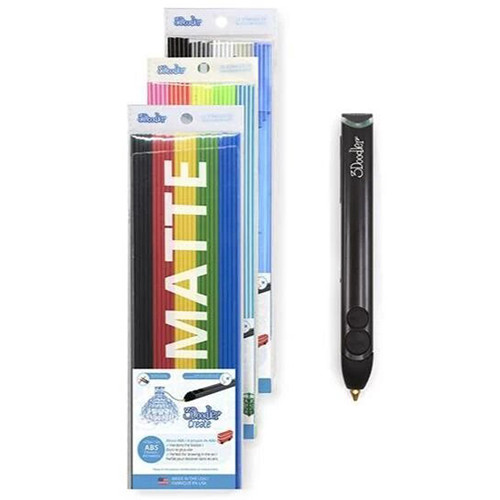 When it comes to ease-of-use, quality construction, and excellent customer service, you can't do any better than the 3Doodler Create+. Perfect for both beginners and experienced users, the 3Doodler Create+ features super simple 3-button operation that anyone can pick up quickly. A retraction feature cuts down on clogging and stringing issues, too. Our favorite thing about the Create+, though, is its sleek and comfortable design that feels built to last. Read more about the 3Doodler Create+ in our full review!
2. Best Advanced 3D Pen: MYNT3D Professional
For ultimate control over your 3D pen, the MYNT3D Professional is your best choice. Enjoy a range of extrusion speeds controlled by an "infinite" slider, for example. You can also set precise temperatures for use with PLA, ABS, and even flexible filaments. Additionally, the MYNT3D Professional is extremely lightweight and comfortable to use. While some lightweight 3D pens feel cheap, the Professional remains light while feeling like an expensive, well-built tool. We love this 3D pen and you will too! The MYNT3D Professional is one of the best 3D pens available today. Read more about the MYNT3D Professional here!
3. Best 3D Pen for Kids: MYNT3D Junior 2
Since 3D pens use heating elements and produce hot extruded plastic, safety is a top priority when shopping for children. That's why we choose the MYNT3D Junior 2 as the best 3D pen for kids. Unlike other 3D pens, which have exposed tips, the Junior 2 is completely encased to cover all heated parts. Your child is never in danger of touching hot metal when using this 3D pen. We also love the kid-friendly design which is easier for kids to hold and operate. Finally, we applaud the Junior 2 for exclusively using PCL filament, which is a low-temperature, non-toxic plastic that's safe for children and animals. Read more about in our MYNT3D Junior 2 review!