Marketed as the only child-friendly 3D pen on the market, the 3Doodler Start makes some lofty claims. We dig into this 3D pen to find out if it's really as safe and child-friendly as the company says. Is this the perfect gift for the children in your life or should you get a "real" 3D pen instead? Find out in today's 3Doodler Start review.
3Doodler Start Review Basics
This is a very simple 3D pen. It features a large, round plastic housing that's easy for little hands to grab. Single-button operation starts and stops the extrusion of filament while a switch turns the pen On and Off. The whole process has been simplified so that children won't get confused with too many buttons or options.
The 3Doodler Start exclusively uses low-temperature 2.5mm PCL filament. The benefit of using PCL is that it's eco-friendly, safe for children to handle, and melts at a much lower temperature than PLA. Ultimately, that makes the 3Doodler Start safer for small children, as it doesn't need to get as hot as other 3D pens.
That's really all there is to this pen. While it may be a bit too simple for teens or adults, this simplified design is ideal for young children.
3Doodler Start Review Pros
Extremely Child-Friendly
Most 3D pens are considered safe for children with supervision. That's because other 3D pen nozzles get hot during operation. This poses a small but serious hazard for young tots.
Unlike other pens, though, the 3Doodler Start is truly kid-friendly. Although we would still recommend supervision while using the pen, there's no chance for your child to burn themselves when using this pen. That's because it uses low-temperature PCL filament and none of the external parts get hot. PCL filament, like PLA filament, is also non-toxic and eco-friendly without any dangerous fumes.
Excellent Accessories
This pen may seem a bit pricey, especially for a simplified version of a 3D pen. The price is justified a bit, however, by the awesome accessories pack included in the box. You get a big, educational stencil book that teaches children how to use their pen and build some models. There's also a mat for them to print on which also provides a helpful grid for tidy lines. The package also includes a bunch of filament which should last your child a through multiple projects. In all, this 3D pen kit is actually competitively priced.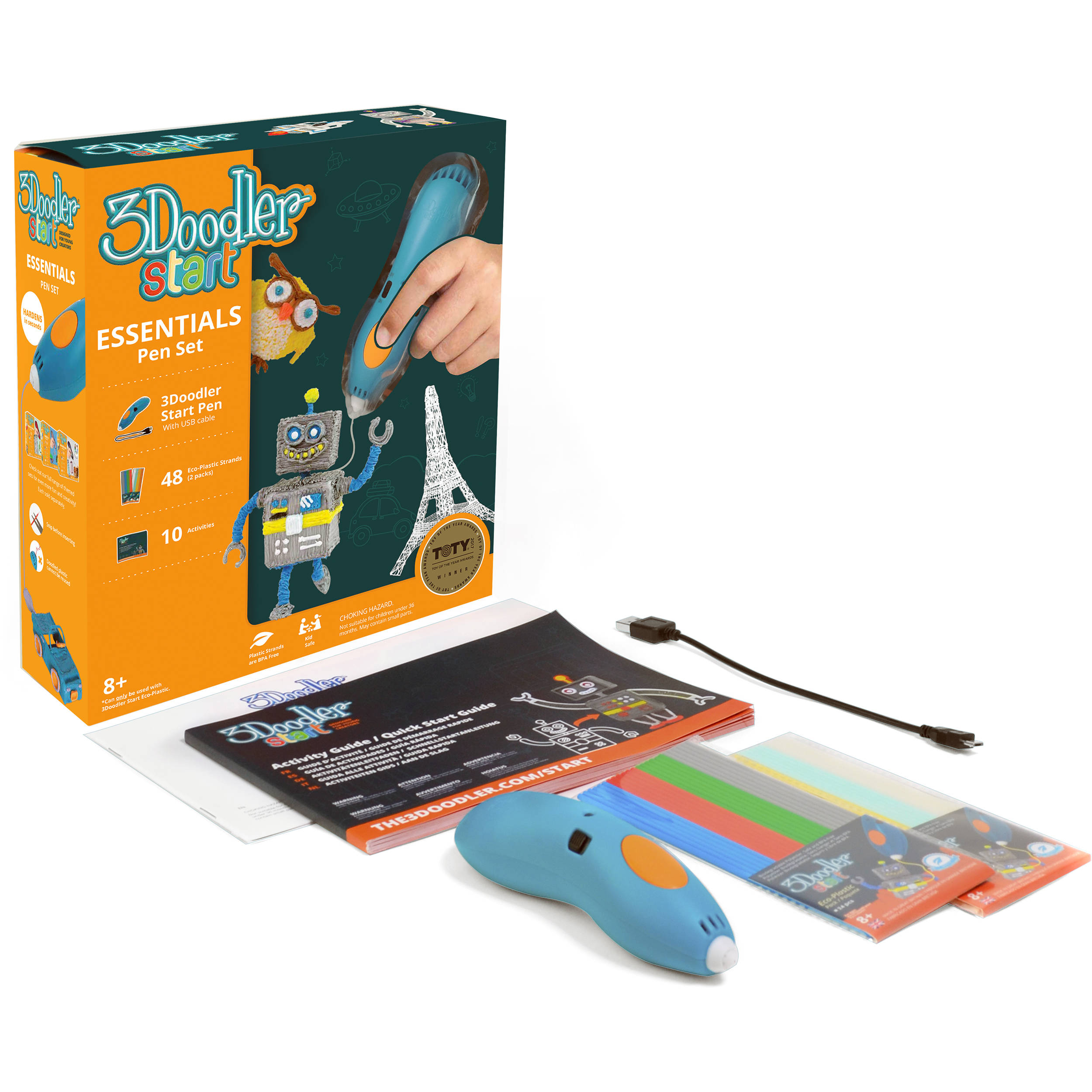 Solid Construction
When buying a 3D pen for small children, high-quality construction is a must. Of course, you need it to survive any accidents from clumsy little hands. You also need the security of knowing that the pen isn't going to break open and reveal dangerous electronics or heating elements. We're glad to report that the 3Doodler Start is a well-made product with trustworthy construction and design.
3Doodler Start Review Cons
Pricey Proprietary Filament
Just like all 3Doodler 3D pens, the Start uses irregular filament and the warranty requires you to use 3Doodler filament exclusively. In the 3Doodler Start's case, this pen uses a different type of filament (PCL) and a strange size (2.5mm) which is highly irregular. It means that filament for this pen can't even be used with other 3Doodler pens. Yikes.
All this isn't such a big deal except that 3Doodler filament is expensive for how much of it you get in each pack. Be prepared to buy these refills regularly and be sure to only use 3Doodler branded filament, and importantly, that it's specially designed for the Starter.
3Doodler Start Review Verdict
Normally, we hold 3Doodler's dependence on proprietary filament against them. In this case, however, we don't mind. The Starter is designed for small children, meaning safety is paramount. 3Doodler filament is guaranteed safe and is least high quality so you won't have as many problems with irregular feeding or clogging.
Besides that, this 3D pen is quite good. It's not versatile enough for adult users, but kids will love the simple operation and awesome results. And, though you'll pay more down the line in filament, the 3Doodler Starter comes with a lot of great accessories to help add value.