MYNT3D are one of our favorite 3D pen manufacturers. Unlike other fly-by-night companies, MYNT3D's flagship Professional 3D Pen is built to last and features a thoughtful design that customers of all ages love. Today we look at the other offering, the MYNT3D Super. Does this pen live up to the standards set by the MYNT3D Professional 3D Pen? Find out in today's MYNT3D Super 3D Pen review.
In-Depth MYNT3D Super 3D Pen
MYNT3D Super 3D Pen Review Basics
The MYNT3D Super comes in a sleek plastic design that's light enough to be comfortable, yet heavy enough not to feel cheap. It operates on corded power, with one end going into the pen and the other end featuring a USB plug. That means you can use the included wall charger, a powerbank, or even a computer to power this pen but be aware that the cord is only about 3ft long.
There's no digital screen, however operation is very straight-forward. An "infinite" slider controls extrusion speed, while two other buttons start, stop, and reverse extrusion. There's also a helpful red-light-green-light system to tell you when the pen is heated and ready for use. Changing the temperature, however, is a whole other process which we'll describe later in this review.
Finally, the MYNT3D Super prints in both ABS and PLA, making it more versatile than pens that just print in PLA. The pen even comes with some ABS samples to get you started. It's worth mentioning though that if you buy this for a child, be sure to to buy and use PLA instead since it's safer.
MYNT3D Super 3D Pen Review Pros
Comfortable, Intuitive Design
The slim, angular design of this 3D pen allows for a comfortable grip that allows easy access to the feeder button. The Super feels natural in your hand and isn't too heavy. Maintenance is also made easier with the removable and replaceable nozzle.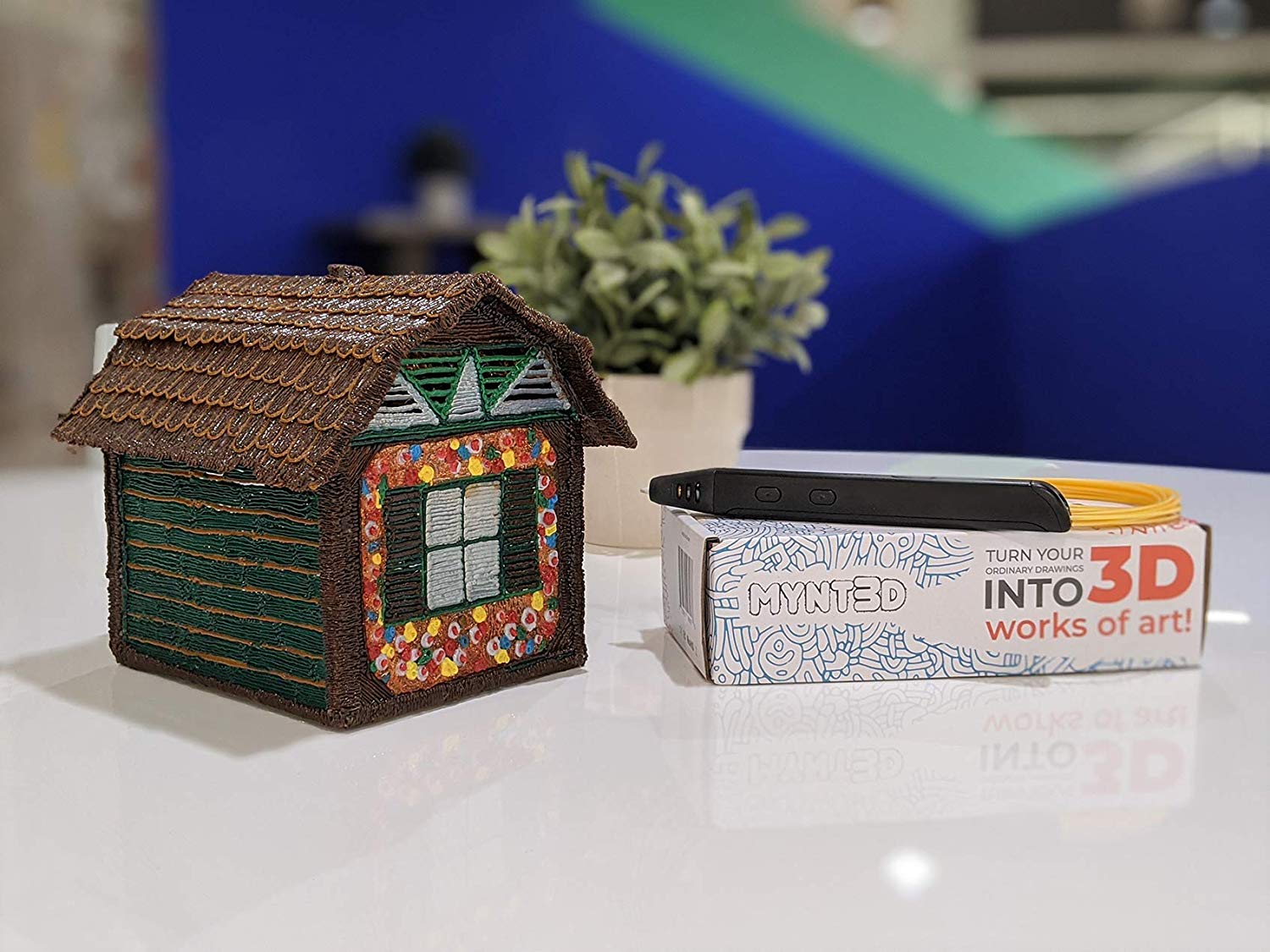 Good Customer Support
3D pens use delicate components, meaning that sometimes units break in the mail or pass inspection with small defects. Thankfully, MYNT3D isn't known for sending out a lot of bad units, but should anything go wrong with your MYNT3D Super, the company is quick to respond by helping you troubleshoot or even by sending you a brand new unit. This company seems more concerned with keeping customers and building brand loyalty than making a quick buck.
Dependability
Cheap 3D pens are easy to find but dependability is a huge issue. Will the pen be a constant source of clogging or overheating? Will the motor burn out in a month? Thankfully, the MYNT3D Super is built similarly to the Professional, meaning its components will last hundreds of hours of use with proper maintenance. And, as mentioned, if the pen fails you due to no fault of your own, MYNT3D are happy to send a replacement.
MYNT3D Super 3D Pen Review Cons
Complicated Temperature Control Mechanism
Where some pens offer adjustable temperature with digital screen feedback, the Super has no screen at all. Where other 3D pens without screens provide a quick switch for changing between two set temperatures, but the Super lacks this feature, too. Instead, the MYNT3D Super requires you to open a tiny safety hatch, then use the included plastic screwdriver to twist a screw back and forth between ABS and PLA settings. Yes, it is that crazy. This is especially strange since the sides are unlabeled, making it difficult to remember which direction correlates with which filament. The only saving grace here is that most users don't switch between PLA and ABS often.
MYNT3D Super 3D Pen Review Verdict
This dependable, versatile 3D pen definitely gets our seal of approval. This is the perfect 3D pen for beginners who want to try it first before investing in a more expensive pen like the Professional. While we really dislike the temperature control mechanism, this is a relatively small feature when compared to the smart, comfortable design and consistent results.
To be fair, we'd still recommend the MYNT3D Professional over the Super. It's a better, more versatile and user-friendly pen. We know not everyone wants to spend that kind of money on a 3D pen, though. If that's the case, the MYNT3D Super is an excellent alternative.