You're in the market for an affordable 3D printer with a sizable build volume and simple operation. You have a lot of options, so what makes the LONGER LK4 stand out in this crowded field? Find out if this 3D printer has what it takes to compete against giants like the CR Ender 3 or Anycubic Mega S in today's LONGER LK4 review.
LONGER LK4 Review Basics
To start, the LONGER LK4 is listed as a DIY kit for good reason. While all electrical parts are installed and protected, you need to build the rest of the machine. This includes the belts, extruder, and print bed. The whole process takes anywhere from 30-minutes to an hour depending on how mechanically inclined you are, especially considering that the included instructions leave a bit to be desired.
With that out of the way, we can talk about the LK4's specs. This machine offers a generous 8.6"W x 8.6" D x 9.8 H build volume over a PEI-covered glass print bed. The LK4's basic hotend reaches temperatures up to 250C, while the print bed reaches up to 110C. This allows the LK4 to print with PLA and ABS, though flexible filaments aren't necessarily recommended due to the Bowden extruder setup. Some customers have had success with TPU and PETG, but don't expect perfect results out of the box.
In an attempt to out-shine their major competition, the Ender 3, LONGER have even outfitted with printer with a touchscreen interface. The touchscreen isn't the LK4's finest feature, as it's a bit laggy and unresponsive, but it is an upgrade to the Ender 3's turn-knob interface. Finally, you get two connectivity options with this printer: USB or SD card.
LONGER LK4 Review Pros
Solid, Safe Construction
When buying a budget appliance, quality is a major concern. Will the item stand the test of time or are you better off buying a more expensive model? Luckily, this isn't an issue with the LONGER LK4. Made with a sturdy aluminum frame that weighs about 17lbs, this printer is solid as a rock. The power supply and motherboard connections are all secure and the enclosures provide excellent protection. The tempered glass build plate also resists warping better than cheaper options.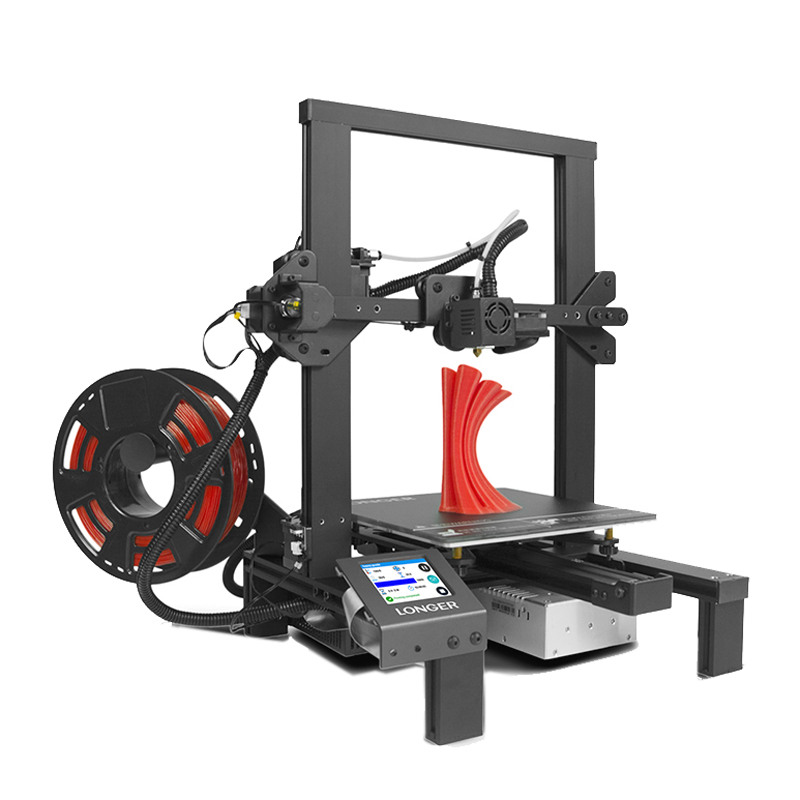 Very Affordable
This printer costs just over $200, making it a bit cheaper than the Ender 3 and a lot cheaper than the Anycubic Mega S. Considering the build volume, construction quality, and convenience features like filament detection and a touchscreen interface, the LK4 represents a great value.
Competitive Precision
Once you get this printer dialed in, the print results are definitely competitive with similar machines. Models have a smooth finish despite the LK4's lackluster 100-micron max resolution. The extruder is dependable, the heated print bed maintains steady temperature, and there are no imperfections caused by a vibrating frame or gantry. Overall, the LK4's print quality is on par with the Ender 3.
LONGER LK4 Review Cons
Lots of Adjustments Needed
Be prepared the make a ton of adjustments when building this machine. One of the most common problems people have with the LK4, for example, is that the legs appear uneven. Although this problem is easy to solve by adjusted screws on the side of the machine, this is common throughout the build process. You will need to fine tune and adjust tension and pressure all over the place. This is especially true when installing the print bed and X-axis assembly. In fact, correcting tension for every axis is a bit of a pain and necessary for successful prints.
Leveling this printer is also done manually, though once leveled, the LK4 retains an even build platform for a long time.
Little Community Support
The DIY printing community is huge, but not so for the LONGER LK4. Unlike the Ender 3 or CR-10, there isn't nearly as much content or community support for this printer. That means there are fewer resources in case something goes wrong. It also means there's less information about mods and upgrades. Depending on how much you plan to participate in the larger 3D printing community, this could be a big problem or a non-issue.
LONGER LK4 Review Verdict
The Longer LK4 is a perfectly serviceable 3D printer and we recommend it for anyone who was on the fence about buying it. It needs a lot of love in the beginning, but the bones of the Longer LK4 are strong and reliable. Compared to popular printers like the CR-10 and Ender 3, the Longer LK4 holds up well. Unfortunately, it lacks the enormous online communities of these machines. If that's a concern, you're better off with a Creality or Anycubic printer for your cheap kit needs.
For most, however, the existing support for the LK4 is sufficient. This is a good, cheap printer and you could do a lot worse.