Elegoo did the Mars legacy justice with their latest model, the Mars 2. This is a significant upgrade from the original Mars and will satisfy both veterans and beginners with its fast, precise printing and affordable price.
Elegoo Mars 2 3D Printer Review
After Elegoo's breakout success with their flagship printer, the Elegoo Mars, expectations are high for their latest release. The Mars 2 is bigger, greener, and supposedly more powerful than its predecessor, but is it worth your hard-earned cash? Find out in today's Elegoo Mars 2 review whether the Mars 2 is another must-have from Elegoo.
Elegoo Mars 2 Specs
The Elegoo Mars 2 sports a slightly upgraded build volume from its predecessor. Available print volume measures 5.1" x 3.1" x 5.9" and models start on a sturdy, sanded aluminum build plate.
Next, the Mars 2's LCD offers the same 2K resolution as the Mars. One big upgrade, however, is that that Mars 2 features a monochrome LCD vs the Mars' RGB LCD. This means faster and more accurate prints, with layer exposure times as low as 2-seconds. Monochrome LCDs even last longer than their RGB counterparts, which is great news for anyone who's been burned by screen replacements in the past.
As expected, the Mars 2 runs well with ChituBox. There's a single USB port for connection, located in the front of the machine for easy access. From there you'll use the modest monochrome touchscreen interface to manage prints. It's not the nicest UI we've ever seen but it's responsive and the menu system hasn't changed much from the Mars.
Elegoo Mars 2 Pros
Affordable and Dependable
Elegoo became one of the most popular brands in SLA printing by offering a cheap, dependable experience. The Mars 2 follows suit here, costing just $30 more than the Elegoo Mars at the time of this post. Considering its upgrades, we think this is an awesome value. The Mars 2 remains reliable, too, with very few customers complaining of DOA shipments or other quality control issues.
It's not easy to maintain that kind of consistency when you're selling such affordable machines, so we commend Elegoo for making their reputation a priority.
Solid Upgrades
We think Elegoo made the Mars 2's cover green so that you could tell the difference from the Mars or Mars 2 Pro at a glance. You'd be forgiven for mistaking any of these printers for each other but that doesn't mean Elegoo hasn't been making improvements.
The upgrade to a monochrome LCD now was a good move, since mono LCDs are quickly becoming the standard across the industry. Elegoo also upgraded the light source in the Mars 2 to complement the new LCD. Together they allow for more detailed, smoother prints than were possible with the Mars. We also appreciate the little changes, like moving the USB port to the front.
Elegoo Mars 2 Cons
Bare-bones Experience
The Mars 2 excels in precision and speed, which are arguably the most important specs to consider in 3D printing. Beyond that, the Mars 2 is a pretty bare-bones, especially with this new plastic resin tank. The biodegradable plastic seems like a serious downgrade compared to the Mars' aluminum tank, despite Elegoo's claim of environmental stewardship.
Additionally, they haven't updated the UI nor included any new connectivity options. We also remain unimpressed with the cheap acrylic cover and overall lightness of the machine.
Elegoo Mars 2 Review Verdict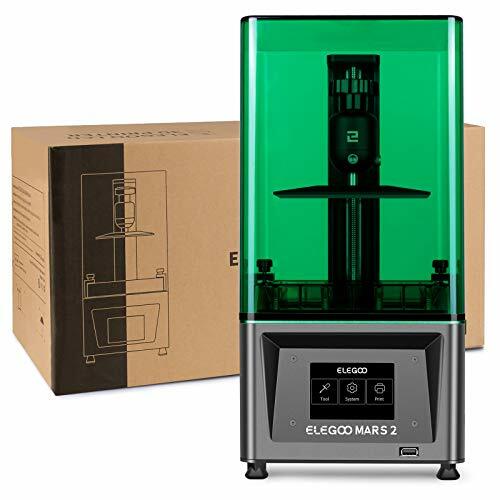 All told, the Mars 2 is a worthy successor to the incredibly popular and well-loved Elegoo Mars. There are tangible upgrades to bring it into the next generation of SLA printing while remaining budget-friendly. People trust Elegoo to deliver on their promises and the Mars 2 is no different. It's also backed by decent warranties on all parts, including 6-month coverage on the all-important LCD screen. We know Elegoo fans will love this machine and it will be a dependable first printer for beginners.